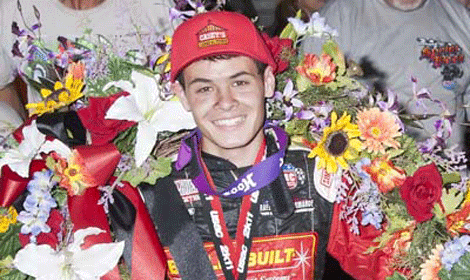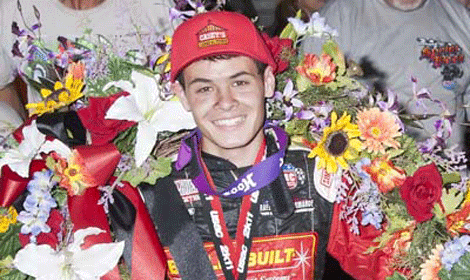 OSKALOOSA, Iowa — Kyle Larson doesn't consider himself a "non-wing" driver, but the Elk Grove, Calif., 19 year old won't convince the fans who have seen him in action lately.
His latest victory came at the Casey's General Stores Ultimate Challenge presented by Searsboro Telephone Company at Southern Iowa Speedway Tuesday night.
Larson hooked up with the Hoffman Racing No. 69 team and it immediately paid dividends as the winner of last week's Belleville Midget Nationals swept his heat, his qualifier and the 30-lap main event handing the team its first vicotry since May of 2010. The wait was worth it as the win paid $15,000.
Starting outside of row one, Larson took the early lead in the feature beating fellow front row starter, Robert Ballou, to the low side of turn one. With two laps in the books, Justin Grant took a nasty set of flips down the backstretch bringing out the red flag. He was uninjured. At the time, Larson led Ballou, Brady Bacon, Dave Darland and Levi Jones back to green-flag racing.
Bacon passed Ballou into second on lap three, and slowly reeled in the leader. On lap 14, as Larson was riding the high side of turns three and four, Bacon found the rubber on the low side to shoot past.
Dustin Morgan brought out the second red flag period of the race with 16 laps in the books when he flipped hard into the turn-three wall. Ten drivers used the red flag to change rear tires and restart at the back of the pack. Among them were contenders Ballou, Jones and Jerry Coons, Jr.
Bryan Clauson who was slated to start in row two, elected to take a challenge to start at the back paying $5,000 to win, $1,000 for a top three and $100 per car passed. He elected to change tires as well.
Once the lineup was set, Bacon was out front leading Larson, Darland, Hunter Schuerenberg and Shane Cottle back to green flag racing. Larson shot around Bacon and shut the door heading low into turn one on the restart. When he slid high, Bacon briefly took it back, but Larson carried his momentum into turn three to reclaim the point for good.
Larson seemed to be cruising to victory, but a caution flag came out after Larson had taken the white flag. Clauson had suffered a flat tire and gone pitside. Larson held off Bacon on the green-white-checkered finish to claim his first Ultimate Challenge win.
Bacon was second, followed by Darland, Cottle and Coons.