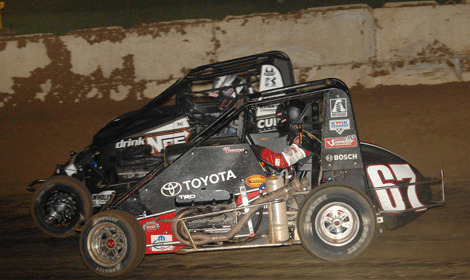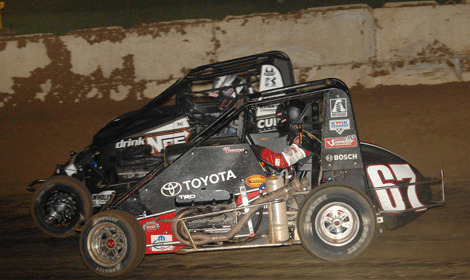 TOLEDO, Ohio — Saturday's "Rollie Beale 150" USAC Traxxas Silver Crown race at Toledo Speedway will contain added drama as USAC National Drivers Championship point leaders Bryan Clauson and Kyle Larson enter the event separated by just two points.
Larson sliced Clauson's lead with his victory in last Friday's 25-lap Gold Crown Midget Nationals feature at Pontoon Beach, Ill. Tracy Hines and Levi Jones remained in the hunt for the 2011 NDC title with good performances at Pontoon Beach as well.
Hines was fifth in Thursday's prelim and Jones won Saturday night's 50-lap finale.
Eight races remain on the 2011 NDC calendar. They include Saturday's 150-lapper at Toledo, plus AMSOIL sprint car races Oct. 28-29 at Peoria, Ariz., and Nov. 3-5 at Perris, Calif., and the Nov. 24 Turkey Night Grand Prix Mopar Midget race at Irwindale, Calif.
Meanwhile, only 12 points separate defending USAC Traxxas Silver Crown Champion Jones and former champion Jerry Coons, Jr. entering Saturday's 150-lap race at the half-mile asphalt oval.
They are the forerunners for the 2011 title, but challengers Kyle Larson and Tracy Hines could pose a threat before the final checkered flag falls.
Larson ranks third in the standings, 46 out of the lead, with Hines fourth, 61 back of Jones.
Jones is working on a "double" again this year, hoping to repeat as the USAC Traxxas Silver Crown and AMSOIL USAC National Sprint Car king. Those two titles would elevate him to a lofty position in the all-time USAC National Championship category. Not only would he become USAC's first five-time National Sprint champ, he would own seven USAC National titles. Only A.J. Foyt has more, with 10 during his illustrious career. Rich Vogler and Mel Kenyon also have seven National titles to their credit. Coons won last year's inaugural Rollie Beale 150 celebrating the career of USAC's 1973 National Sprint Car Champion, a Toledo native. Jones finished seventh in last year's Toledo race to edge Bud Kaeding for the 2010 title by two points.
The 2011 Traxxas Silver Crown series has been somewhat unpredictable, with five different winners in seven races.