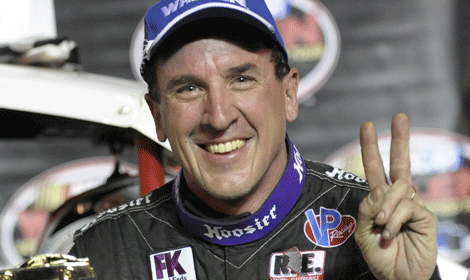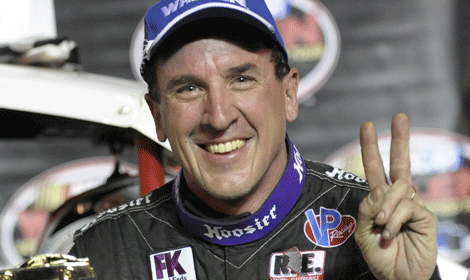 ATLANTIC CITY, N.J. — Ted Christopher and Erick Rudolph were the winners of the Friday Atlantic City Indoor Race features before an enthusiastic crowd at Boardwalk Hall.
Winning in the legendary venue for the third time, Christopher is tied with Joe Payne and Lou Cicconi as two- time Gamblers Classic winners and will have the opportunity Saturday to sweep the 2012 Atlantic City Boardwalk Hall Three Quarter Midget events and become the only three-time Gamblers Classic winner.
Rudolph ran away with the 600cc Micro Sprint feature when he took the race lead at the one-third distance and survived several caution flag situations that negated big leads. The win was the first indoors for Rudolph.
In the TQ 30-lap main event, Christopher out dueled Payne in a classic nose-to-tail fight to the finish. Payne had led the early laps of the race before 'TC' out muscled Payne on one of the numerous early race, side-by-side restarts.
Finishing a close third was Matt Janisch, who started seventh in the race and avoided several accidents in front of him to take the spot ahead of Ryan Smith, and ninth-starting Rudolph, winner of the earlier 600cc Micro Sprint race.
In the 600 Micro 20-lapper, once Rudolph was in the clear, the battle royale was for second place with Lou Cicconi taking the spot off the final turn of the last lap of the 20-car, 20-lap tussle. Mike Dicely and Kyle Hieber, who was making his first 600 Micro start indoors, completed the top five.
Champ Karts competed in three heat races, setting the front portion of the starting lineup for tomorrow's feature. Bobby Timmons, Ryan Kendall and Nick Hadden were the winners.
Slingshot heat race winners were Eddie Strada and Ryan Raidline; the remainder of Slingshot qualifying takes place tomorrow prior to their feature event.
BREAKING NEWS
:
SPEED SPORT is back in print with a new monthly format!
Subscribe for just $24.95. Special offer for former subscribers.