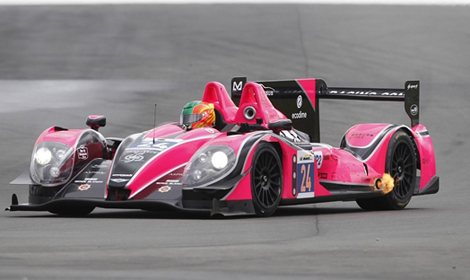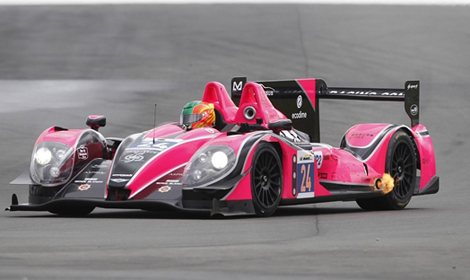 OAK Racing will expand its sportscar operation this season by entering a single Morgan LM P2 in the new-for-2013 Asian Le Mans Series.
The Onroak Automotive designed and built prototype will contest all six rounds of the inaugural campaign carrying the French team's traditional pink and black livery, as well as its lucky number, 24.
Its AsLMS commitments will run parallel to the team's existing FIA World Endurance Championship (WEC) program that sees a pair of Morgan LM P2s contesting every round. A third car has also been granted entry for the Le Mans 24 Hours in June. The privateer squad's expansion into Asia confirms the important role OAK Racing anticipates the continent playing in the development of endurance racing's future.
The team's pedigree is illustrated by its three consecutive podium finishes at Le Mans and six more LM P2 class top-threes last season. OAK Racing is delighted to be returning to Asia where its cars have already competed five times with success, scoring rostrums at Okayama in 2009, Zhuhai's Intercontinental Le Mans Cup races in 2010/11, and at Fuji and Shanghai as part of last season's WEC.
The series, which features LM P2 machinery as its premier class and features six events in China, Korea, Japan and Indonesia, is officially launched in Hong Kong on March 5. Its opening round at Zhuhai in Guangdong Province, Guangzhou, takes place on May 5. The team's driver line-up for the event is due to be announced shortly.
OAK Racing is based at the Technoparc 24 Heures du Mans, just a few hundred meters from the historic Circuit de la Sarthe. This is also where the squad's manufacturer department, Onroak Automotive, designs, builds and markets its sports-prototypes.
The constructor division will be ever-present in Asia throughout the campaign in order to provide technical support and a spare parts service to its customers, including KCMG. The Chinese outfit, which will race a Morgan LM P2 in the AsLMS, has also been selected by the Automobile Club de l'Ouest to contest this year's Le Mans 24 Hours.
"The Asian Le Mans Series represents an interesting challenge for a French outfit. In this first season of the championship, which I'm sure has a bright future, OAK Racing will be challenging as a team," said Sébastien Philippe, OAK Racing Team Principal. "This commitment also extends to our customers. We want to offer them our experience and support of this type of competition to enable them to succeed as much as possible. We recognize that the culture of sports-prototype racing in Asia is only just beginning and this is one reason for offering such a strong commitment to our customers. Asia is also a place that I have personally had the chance to experience and enjoy, as much of my racing career took place on the continent.
"Meanwhile, the team has always maintained a special relationship with Asia having successfully engaged in all championships and events organized there by the ACO. What's more we were also the first to offer a Chinese driver an opportunity to participate at the Le Mans 24 Hours. That was back in 2008 when, aged 24, Cong Fu Cheng not only made his endurance racing debut at the wheel of an LM P2 prototype but also finished third at the legendary event. This next chapter continues that commitment."