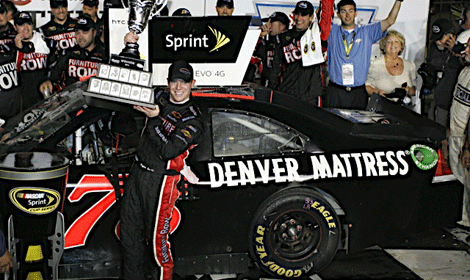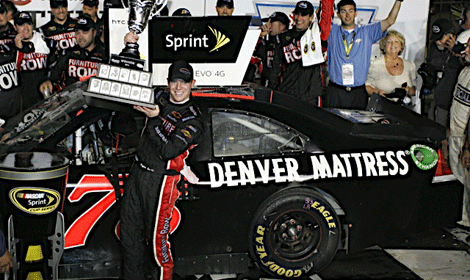 DARLINGTON, S.C. — There are upsets and then there are upsets.
Regan Smith and the Furniture Row Racing team pulled off one of the biggest upsets in NASCAR history Saturday night at Darlington Raceway.
Smith remained on the race track when the leaders pitted for fresh tires following the 10th yellow flag of the race with 10 laps remaining and while engines blew, cars crashed and drivers exchanged differing opinions, Smith held off Carl Edwards by .196 second to earn his first NASCAR Sprint Cup victory in the Showtime Southern 500.
Edwards was in the lead when the yellow flag waved and was one of many drivers to take on two tires while Smith, Brad Keselowski and Tony Stewart did not pit.
The race resumed with five laps to go, but the yellow flag promptly waved one lap later after Kyle Busch, Kevin Harvick and Clint Bowyer raced off the fourth turn three wide and Bowyer spun into the inside wall after contact between Busch and Harvick sent Harvick into Bowyer.
As Bowyer hit the wall, Busch turned left into Harvick and sent him spinning, leading to an altercation between the two following the checkered flag.
On the green-white-checkered restart, Smith pulled away from Edwards, who quickly closed the gap. But when Smith bounced off the second turn wall on the final lap, Edwards cracked the throttle on his Roush Fenway Ford and Smith had the break he needed to drive his No. 78 Chevrolet to victory.
Not only was it the first triumph for Smith, but it was the first for the Denver, Colo., based team, which is historically one of the lower budget operations in the Sprint Cup Series.
"These guys have stuck behind me for three years now and we have had some major ups and downs and this would be classified as a major up," said Smith, whose team now qualifies for the Sprint All-Star Race. "Pete (Rondeau, crew chief) made a great call there.
"We had a fast car, we just needed the track position. This is the Southern 500. Legends win this race, I'm not supposed to win this race."
Edwards, who led 57 laps and extended his point lead to 23 over five-time champion Jimmie Johnson, finished second.
"There were about six things I could have done differently and I will be doing them differently in my mind until we come back here again," said Edwards. "I guess if you are going to get beat, it's alright to get beat by him."
Keselowski was third in the Penske Racing Dodge while polesitter Kasey Kahne who led the most laps (124) finished fourth in the Red Bull Toyota and Ryan Newman was fifth I his Stewart-Haas Racing Chevrolet.
There were 12 lead changes among 21 drivers in a race, which went three laps past the 367-lap scheduled distance on the 1.366-mile track. There were 11 yellow flags for 46 laps.
Denny Hamlin, Stewart, Greg Biffle, Jamie McMurray and Martin Truex, Jr. rounded out the top five.