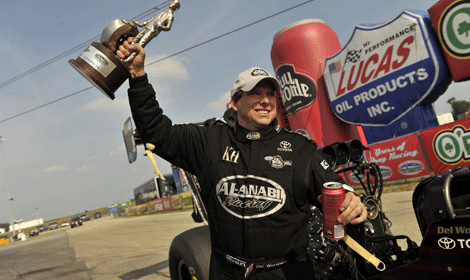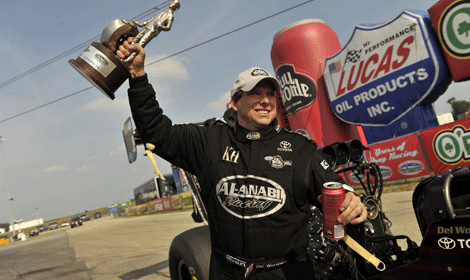 BROWNSBURG, Ind. — With his 2011 NHRA Full Throttle Top Fuel championship in hand, Al-Anabi driver Del Worsham decided late last week to retire and made the announcement Monday.
Having fulfilled his career-long goal of an NHRA championship Worsham decided to call it a driving career.
Worsham finished his 21-year driving career with 33 victories having won 25 in Funny Car and eight this season in the Al-Anabi Top Fuel dragster. His 2011 title was his first in NHRA but his second overall; he won the 1992 IHRA Funny Car championship as well.
"I've been thinking about retiring for a while; after winning the Full Throttle championship last week, I made my final decision, and it was 100 percent my decision," said Worsham. "It wasn't easy; it was sad, but at the same time I am comfortable with it. I enjoyed driving the Al-Anabi Top Fuel car this year, but it really is the right time for me to retire. I've driven for a long time, and I'm just ready to move to the next chapter of my career.
"I am so thankful for the opportunity (team owner) Sheik Khalid and (team manager) Alan Johnson gave me to drive the Al-Anabi Top Fuel car this year. They believed in me, and that's something I'll never forget. I appreciate (crew chief) Brian Husen and our entire Al-Anabi Racing Team, and I thank them for everything they did for me. I'd also like to thank my Dad, my wife, my entire family and all my friends and fans for 21 years of support while I was driving."
Worsham is one of only five drivers to lead the standings in both Top Fuel and Funny Car, and he is one of just 15 drivers to win races in both categories. He made 456 starts in his career as a driver, and his 25 Funny Car wins place him seventh on the NHRA's all-time Funny Car wins list.
The 1991 NHRA Rookie of the Year made his first start at the 1990 NHRA Winston Finals in Pomona, Calif. and made his final start at the same race track last Sunday. One week ago today, Worsham was officially crowned the 2011 NHRA Full Throttle Top Fuel champion.
"We are definitely sorry to see Del retire, but we support his decision and wish him all the best," Al-Anabi Racing team manager Alan Johnson said. "Not only did Del do a fantastic job driving and winning a championship, he helped make racing fun. I cannot imagine the last three years without Del's enthusiasm to compete and his dedication to the entire Al-Anabi Racing team; he will be missed dearly.
"Del wanted to win a championship, and I am so happy we were able to help him achieve that goal. It's nice to see someone go out on top because so few people have that opportunity; I'm happy for Del and his family. There's no doubt we will find a capable driver to pilot the Al-Anabi Gold Top Fuel car for 2012, but we will never be able replace Del Worsham, either on or off the track."
Worsham joined the Al-Anabi Racing team when it was founded in 2009 after driving for his family-owned Funny Car team since 1990.
In 2009 and '10, he drove the Al-Anabi Racing Toyota Funny Car but joined his teammate in Top Fuel prior to the 2011 season.