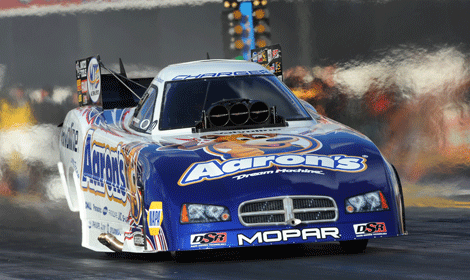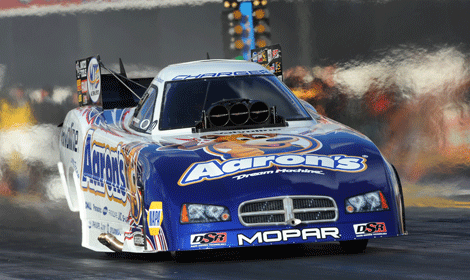 COMMERCE, Ga. — Jack Beckman's on-track performance so far this season has stirred a lot of talk around the NHRA pit area.
After not knowing if he would even be racing this season due to sponsorship concerns in the off-season, Beckman has suddenly emerged as the darkhorse title favorite for many in Funny Car.
Beckman, a veteran driver of several NHRA categories including Super Comp where he won a 2003 world championship, has heard the talk. While he enjoys hearing his name associated with a positive buzz in the pits, there is one group whose talk makes him really giddy.
"For the driver, you always are confident, but when I hear my crew chiefs, Rahn Tobler and John Collins, talk about how confident they are in the performance of the car, that's when I get really excited," Beckman said.
Beckman, who won the four-wide race in Charlotte and posted two semifinal finishes in the season's first five races and currently sits third in the point standings, will try to improve on his position at the 31st annual Summit Racing Equipment NHRA Southern Nationals this weekend at Atlanta Dragway.
It is also an event that Beckman has won, back in 2009.
"It always feels good to get back to a track where you've had success," Beckman said. "And Atlanta is Aaron's home base so they are going to have more than 100 guests out there over the weekend and for many of them it will be their first time at a drag race, so I am very excited about Atlanta."
He says it feels good going into an important race for his sponsors knowing that his car has been very steady throughout the season. Some recent testing for a hot track tune-up give the team even more confidence heading into the summer months of the 22-race schedule.
"It's always nice to have a car that can set a national record in great conditions, but I think it is better to have a car that runs consistently fast on hot race tracks," Beckman said. "I calculated that just about 85 percent of the runs during the season are going to be on hot tracks, so you have to have that part of your program down if your goal is to win a lot of races and the championship."
And to win a championship in Funny Car, the successful driver must overcome a strong group of title contenders, starting with 15-time and defending world champion John Force, a seven-time winner at Atlanta Dragway. It doesn't get any easier on down the lineup, as series points leader Mike Neff, who pulls double-duty as driver and crew chief on his Castrol GTX Ford Mustang, leads the way with two-time world champ Cruz Pedregon, national record holder Matt Hagan, always quick Robert Hight and veteran Ron Capps, among others, providing a stern challenge.
"It is as tough as it has ever been to win a Funny Car race," Beckman said. "That's because there are 12 to 15 cars that can win a race at any time. Jeff Arend proved that at Houston. His car wasn't the fastest of the weekend, but at the end of the day his team outlasted everyone and was standing in the winner's circle holding the trophy. Last year at Brainerd we had the fastest car all weekend, but Bob Bode won the race. That just goes to show you that anyone who qualifies out here in Funny Car has the ability to win."
And while Beckman gets into position for the six-race Countdown to the Championship playoffs at the end of the season, he says the more wins the merrier.
"At this point of the year, we don't care about points," Beckman said. "We want wins, Wallys; that's what we are shooting for on Sunday. Right now, nobody remembers who was runner up; nobody takes pictures of the runner-up."