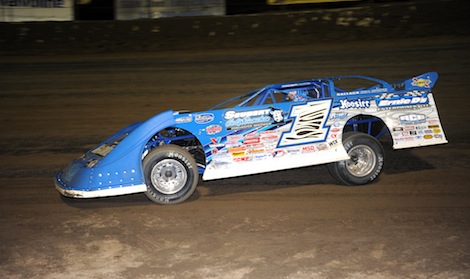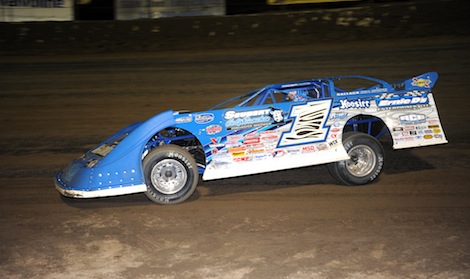 PEVELY, Mo. — Josh Richards roared back into the World of Outlaws Late Model Series spotlight with an elbows-up victory in Saturday night's 55-lap Pevely Nationals at Federated Auto Parts Raceway at I-55.
Twenty-four hours after absorbing a rare DNF, Richards wrestled the lead from Shannon Babb on lap 32 and turned back a late challenge from Darrell Lanigan to register his ninth WoO LMS triumph of 2013. The $10,650 score also made him the first driver to win twice in the seven World of Outlaws A-Mains contested since 2005 at the high-banked one-third-mile oval.
Adding more importance to his checkered flag, Richards, 25, padded his points lead in the chase for the $100,000 WoO LMS championship to a season-high 114 points over Lanigan and Shane Clanton, who ended the night tied for second in the standings. Richards can clinch his third career title on the national tour by averaging an 11th-place finish over the final five events of the campaign.
"It feels good to have a little bit of a cushion," Richards said of his healthy edge in the World of Outlaws standings. "We lost it last night (after a broken rearend left him with a 19th-place finish at Belle-Clair Speedway in Belleville, Ill.), so it feels good to come back with a win tonight."
Lanigan, 43, slipped by Babb for second place on lap 40 and closed up to Richards's rear bumper with three laps remaining, but the race's sixth and final caution flag that same circuit effectively snuffed out his bid for a first-ever win at I-55. The defending WoO LMS champion settled for his third career runner-up finish in the Pevely Nationals, crossing the finish line 0.923 of a second behind Richards.
Billy Moyer, who won the inaugural WoO LMS event at I-55 in 2005, advanced from the 10th starting spot to finish third. A pair of DIRTcar UMP standouts – reigning national champion Brian Shirley and fast-rising 16-year-old Bobby Pierce came from sixth-row starting positions to place fourth and fifth, respectively.
Babb, who started from the pole position and led laps 1-31, finished 15th after bringing out the lap-52 caution flag with a slap of the turn-one wall. He was clinging to fourth place when his car's nosepiece folded underneath its left-front wheel, causing him to slide uncontrollably into the guardrail and collect Chub Frank and Tyler Reddick.
Richards, who started fourth in his father Mark's familiar Valvoline-sponsored Rocket Chassis house car, needed just four laps to reach second place and pulled off a head-turning outside pass exiting turn four to grab the lead from Babb for good on lap 32. But getting to the front — and staying there — was much harder than it looked to those sitting in the bleachers.
"We got the front end bent up a little bit on the first lap and it was definitely a handful to drive," said Richards, who survived an opening-circuit scrape in turn three that left Clanton with a broken right-front suspension and a dismal 26th-place finish might have destroyed his flickering WoO LMS championship hopes. "I couldn't really steer as good as I wanted to the rest of the race."
Richards's handling woes left him unable to "steer good enough to run that (outside) groove lap after lap," but he managed to manhandle his machine around the fast-but-treacherous top side in short bursts to surge into the lead and repel Lanigan's late threat.
After WoO LMS rookie Morgan Bagley brought out a caution flag on lap 48 when a flat left-rear tire forced him to relinquish a top-10 spot, Lanigan tossed his Rocket car around the cushion and drew within striking distance of Richards by lap 52. It appeared Lanigan was primed to charge by Richards, but the lap-52 caution flag was the break the leader needed.
"I guess (before) that last restart Darrell went back to the top and got a run on me," said Richards, who registered his 48th career victory on the WoO LMS. "I heard him out there and my guys were saying to move back up. As leery as I felt up there, I knew you just had to get up there and deal with it for a few more laps.
"Once I got up there and kept the speed up I knew we'd be OK, but our car was just so tight that you just can't steer on the throttle very well here. Those last few laps sure seemed like they took a long time to run."
Lanigan had to resign himself to a second-place finish – a bounce-back for him as well following a 17th-place run the previous night at Belle-Clair that was caused by a late-race flat.
"We had a pretty good run going there on the top and closed in on (Richards) hard," said Lanigan, who leads the WoO LMS with 10 wins this season. "But then we had that caution and his crew told him where to run – to go to the top. That's what you're supposed to do."
The finish:
1. (4) Josh Richards/55 $10,650
2. (8) Darrell Lanigan/55 $5,650
3. (10) Billy Moyer/55 $3,100
4. (11) Brian Shirley/55 $2,500
5. (12) Bobby Pierce/55 $2,650
6. (17) Rick Eckert/55 $2,350
7. (9) Billy Moyer Jr./55 $1,500
8. (3) Dennis Erb Jr./55 $1,350
9. (6) Tim Fuller/55 $1,750
10. (2) Morgan Bagley/55 $1,900
11. (23) Eric Wells/55 $1,600
12. (7) Bub McCool/55 $1,600
13. (14) Brandon Sheppard/55 $950
14. (22) Chub Frank/55 $1,500
15. (1) Shannon Babb/52 $850
16. (15) Tyler Reddick/52 $800
17. (25) Dewayne Kiefer/52 $820
18. (24) Jason Feger/48 $750
19. (21) Jason McBride/34 $730
20. (16) Randy Korte/33 $700
21. (18) Jim Sherech/32 $700
22. (13) Tim McCreadie/28 $1,350
23. (19) Michael Kloos/22 $700
24. (26) Jeff Herzog/2 $725
25. (20) Ricky Frankel/1 $700
26. (5) Shane Clanton/0 $1,250