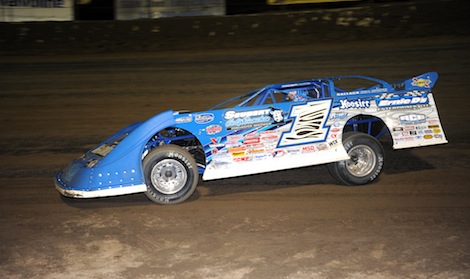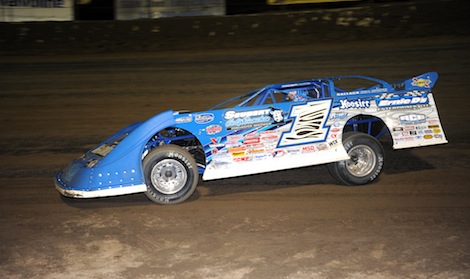 CONCORD, N.C. — The World of Outlaws World Finals Nov. 7-9 at The Dirt Track at Charlotte is shaping up as a coronation for Josh Richards, whose season-long success has him standing at the precipice of a third career World of Outlaws Late Model Series championship.
But that doesn't mean the concluding weekend of the national tour's 2013 campaign will be devoid of points-race drama. Several spots in the WoO LMS standings remain contested, putting thousands of dollars in points-fund cash on the line during a World Finals spectacular that features a pair of 50-lap A-Mains paying $12,000 to win.
Richards, 25, is, for all intents and purposes, ready to write his name on the biggest points-fund check: the $100,000 prize reserved for the circuit's 2013 champion. With Richards entering the World Finals holding a 106-point lead over defending champ Darrell Lanigan and 110-point edge over Shane Clanton, only utter calamity for the young star — and a perfect weekend for one of his closest rivals — can stop him from becoming the first three-time titlist of the WoO LMS's World Racing Group era (2004-present).
If Lanigan were to win both World Finals A-Mains — a feat that only Jimmy Owens has pulled off in the six previous installments of the blockbuster event — Richards would need only to record a pair of 26th-place finishes to secure the points crown. If Clanton, meanwhile, were to capture both races, Richards would need just two 27th-place finishes to stay ahead for the title.
Those scenarios are not outside the realm of possibility because at least 27 cars are scheduled to start each feature, but their likelihood would seem remote considering the degree of difficulty associated with one driver sweeping the hyper-competitive weekend and Richards's own history of performance on the tour.
End-of-the-line finishes are, of course, extremely rare for Richards. In the 350 WoO LMS A-Main starts he has made since debuting on the tour as a fresh-faced 16-year-old in 2004, he has finished 20th or worse a grand total of 12 times — just three percent of his career races.
The last time he registered a finish in the 20s was 72 starts ago, on July 15, 2011, when he placed 21st at River Cities Speedway in Grand Forks, N.D., and the only back-to-back 20th-or-worse outings of his career came in 2004 when he tallied 24th-place finishes on July 16 at Oklahoma's Outlaw Motor Speedway and July 21 at Delaware Int'l Speedway.
Richards has experienced bad luck at The Dirt Track in the past — witness the worst finish of his WoO LMS career (28th in the 2007 Colossal 100), the last-lap flat tire in the 2011 World Finals finale that cost him the points championship and terminal engine trouble during Friday-night practice last year that forced him to his backup car and ultimately led him to provisional-starter status in the evening's A-Main — but he's enjoyed plenty of success as well. In fact, he's the only WoO LMS regular to ever win a World Finals A-Main, thanks to his triumph in the Saturday-night 50-lapper in 2008.
This season Richards has sparkled on the WoO LMS, racking up 30 top-five finishes (including nine wins and seven runner-up placings) and 39 top-10 runs in 44 events. He has just two DNFs (a 19th-place finish on Sept. 13 at Belle-Clair Speedway in Belleville, Ill., is his worst performance) and would surpass $350,000 in total earnings (including points fund) if he were to sweep the World Finals weekend.
With Richards the presumptive champion, the battle for second in the WoO LMS standings will garner the most attention during the World Finals. Lanigan and Clanton are separated by a mere four points, so one misstep by either driver could prove critical.
Clanton held the second spot in the standings for most of the season after ceding the lead to Richards following Race No. 3. He dropped to third behind Lanigan twice during the summer but quickly rebounded each time, regaining second at the next event. Clanton is hoping for more of the same at Charlotte; he enters the weekend having relinquished sole possession of second in the points race to Lanigan in the tour's last event, on Sept. 21 at Berlin Raceway in Marne, Mich.
The importance of the Lanigan/Clanton battle is significant on the financial front. There's a $20,000 difference in points-fund payout — second place receives $60,000, while third place will settle for $40,000.
Rick Eckert sits fourth in the standings, 76 points behind Clanton and 80 in arrears of Lanigan. The 2011 WoO LMS champion can still vault to second place but will need both Lanigan and Clanton to experience awful weekends; he is in no danger of losing the $35,000 fourth-place slot, however, because he leads fifth-place Tim McCreadie by a resounding margin of 290 points.