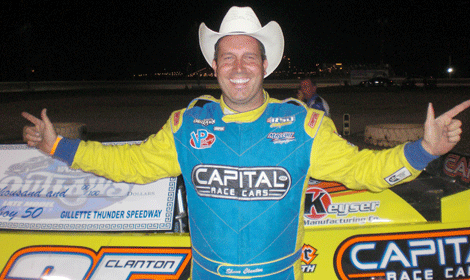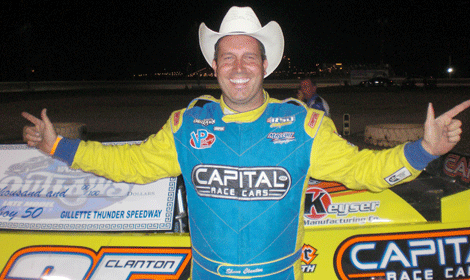 SYLVANIA, Ga. — If Shane Clanton manages to kick off the 2012 World of Outlaws Late Model Series campaign with a rousing home-state victory this Saturday night (Feb. 11) in the 'Winter Freeze' at Screven Motor Speedway, he will have earned every cent of the race's $20,000 first-place prize.
Success at Screven would culminate a grueling three-week stretch for Clanton, whose off-season move to a new team — and preparation for the start of the WoO LMS schedule — was made even more challenging by a disastrous mid-January racing trip to Arizona.
Clanton, 36, of Fayetteville, Ga., has been in full scramble mode since a devastating crash on Jan. 18 at USA Raceway in Tucson, Ariz., cut short his debut with Kennedy Motorsports. The crash left his Capital Race Cars machine damaged beyond repair, forcing him to depart the unsanctioned Wild West Shootout after just three of six scheduled events and return home to hastily regroup.
"That wreck really put me behind the eight-ball," said Clanton, who in late November ended his nine-year association with Georgia team owner Ronnie Dobbins to join John Kennedy's fledgling operation as a teammate to 2011 WoO LMS rookie John Lobb of Frewsburg, N.Y. "We worked hard to get ready for the Arizona trip, but losing a car out there pretty much put us back to square one. We've been working our tails off to get my new car done and Lobb's new car done (in time for Screven)."
Both Clanton and Lobb will have new Capital Race Cars – chassis that are built in a collaborative effort between Clanton and former dirt Late Model racer Marshall Green – ready for action in the 'Winter Freeze,' which includes time trials and heat races on Friday night (Feb. 10) and B-Mains and the 60-lap A-Main on Saturday evening (Feb. 11). But they will have to share one backup car because Clanton's crash leaves the team down one vehicle.
It's not the ideal situation for Clanton, who is hoping his dramatic change in race team scenery will allow him to rebound from a frustrating 2011 in which he won just one WoO LMS A-Main and finished a disappointing seventh in the points standings. The bump in the road hasn't gotten him down, however.
"I feel good and I feel confident in what we're doing," said Clanton, who has been a WoO LMS regular since 2005 and finished as high as second in the points standings (2006). "We're prepared as much as we possibly can be in the time we've had after losing that car in Arizona. We've been working day and night to get everything done and nobody is hanging their head."
Clanton's performance before the Arizona crash certainly buoys his spirits. Engine problems in the Wild West Shootout opener left him a non-qualifier and forced his team to purchase a powerplant from Billy Moyer to continue racing, but he improved in each of his next two starts — to the point, in fact, that he was leading the feature when he clipped an inside marker tire in turn four and careened nearly head-on into the outside wall.
"We were definitely going in the right direction," said Clanton. "I thought we had made some progress. We went from not making the race (Night 1) to winning a heat race and running eighth (Night 2) and then leading the race (Night 3).
"(The accident) was a mistake on my part," he added. "We just knocked ourselves out and ended up with more work than we should have had."
Clanton, who felt sore for "three or four days" after absorbing what he called "probably the second-hardest hit I've ever taken in a crash," plans to arrive at Screven on Thursday night to shake down his car in an open practice session. Then he expects to spend the remainder of the weekend battling for the checkered flag in the biggest event ever presented at Screven, a three-eighths-mile oval that its colorful owner, Redd Griffin, began cutting out of a cotton field 16 years ago.
With a triumph, Clanton would become the first driver hailing from Georgia to win a WoO LMS A-Main at Screven. The track's previous tour events were captured by Steve Francis of Ashland, Ky. (2008), Tim Fuller of Watertown, N.Y. (2009) and Austin Hubbard of Seaford, Del. (2010) – all of whom are expected to enter the 'Winter Freeze.'
"I seem to run good every time I've been to Screven, so I think we'll have a good shot it," said Clanton, who has finished third ('08), sixth ('09) and 13th ('10) in WoO LMS action at the speedway. "Hopefully we can start the year off on the right foot. It would be huge for us. The motivation is definitely there, so if we can get going good right out of the box it would build some momentum."
BREAKING NEWS
:
SPEED SPORT is back in print with a new monthly format!
Subscribe for just $24.95. Special offer for former subscribers.