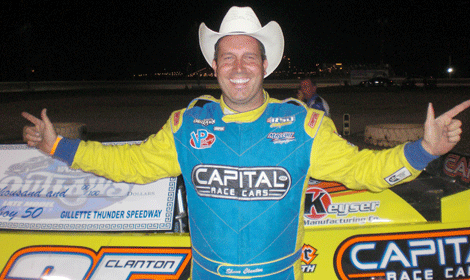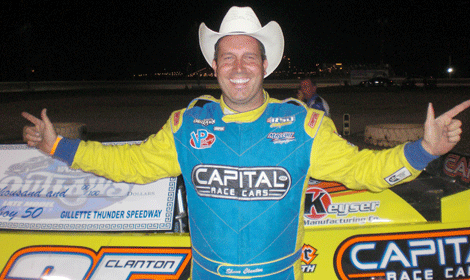 SYLVANIA, Ga. — Shane Clanton doesn't have to worry about going winless on the World of Outlaws Late Model Series this season.
The 39-year-old Zebulon, Ga., driver, who last season failed to win a WoO LMS event for the first time since the national tour was restarted in 2004, made his long-awaited return to victory lane with a dramatic triumph during Saturday's Winter Freeze V finale at Screven Motor Speedway.
Snapping a 66-race WoO LMS winless streak that stretched back to June 1, 2013, Clanton overtook Steve Casebolt of Richmond, Ind., on the final lap of Saturday's 50-lap A-Main to earn $10,550 for the 21st WoO LMS victory of his career.
"This feels amazing," said Clanton, who piloted his Clements-powered Capital Race Cars house car to victory for the second time in WoO LMS action at Screven's 3/8-mile oval. "We've worked extremely hard to get back (to victory lane), and to get it done here close to home, it's a big night for us and great for our sponsors and everyone that's stuck with us."
Casebolt settled for second in wrapping up an impressive weekend that saw the Hoosier State driver claim his first-career WoO LMS victory during the tour's season-opening race Friday night. Brandon Overton, the Evans, Ga., driver who finished second to Casebolt in Friday's A-Main, was third in Saturday's feature after charging forward from his fifth starting spot and leading six laps early in the race.
Billy Moyer followed his third-place finish on Friday with a fourth-place effort Saturday evening, while Casey Roberts gave home-state drivers three top-five positions after taking the fifth spot from polesitter Tim McCreadie late in the race.
Clanton's dramatic charge to the lead nearly came too late. After riding among the front-runners the entire race, the fourth-starting Clanton was third when the race's only caution appeared with 41 laps complete.
The ensuing single-file restart marked the beginning of Clanton's rally. He immediately began pressuring Overton for the second spot once the race went back green, making multiple low-side challenges. Clanton first edged ahead of Overton on lap 45, but it took until lap 48 for him to complete the pass.
Clanton quickly erased Casebolt's slight advantage and was on the leader's back bumper by the time the white flag waved. Another hard charge into turn one allowed Clanton to drive alongside Casebolt through the center of the corner and he completed the pass after the two cars made contact exiting turn two.
"They started sliding there in lapped traffic and I was just biding my time, waiting for the signal for five to go," said Clanton, whose Ron Davies-owned Capital machine carries sponsorship from Weldbank Energy, Hornburg Oil, Penn Gold Well Services and VP Racing Fuels. "We had that restart and it was single-file, so I knew it was time to go.
"When I saw the white flag and (Casebolt) let up and just protected it, I just took a chance and leaned on him a little bit there. That's just what you do when you're racing for the win — especially as bad as I wanted to win. I knew he wanted to win it, but it's been a long time since I've been in victory lane."